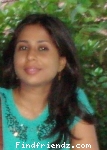 Chanda11[292]
Resist confusing fashion and comfort.

While it is reasonable to expect the two ideals to converge these days, it isn't always the case and it is more important to put your comfort before your fashion statement. As Janet Street-Porter says, always remember that "what you wear should not be a source of pain, vast expense, or misery." Some key things to keep in mind before you take your next trip to purchase comfortable underwear:

Underwear sits against your skin all day long. It couldn't get any closer. Therefore, it should feel comfortable.

Choose features, benefits and design over color, brand and packaging. Just because it says "designer" doesn't mean it's a good fit for you.
Equally, just because the box looks good, does not mean the underwear inside it is comfortable. Same applies to the sales assistant's pitch. It's your own sense of comfort that is the real indicator of the worth of underwear.

And finally, but importantly, just because it's ugly off your body, doesn't mean that it won't be sexy on your body. Think Bridget Jones. If you think it's ugly, avoid purchasing it if it will not make you feel pretty. If it's fits well, is comfortable, and keeps everything in place, you've got a win win situation.

Choose the right size. Comfort is about fit before all else. Underwear that pinches, pulls, squashes, rides up, and generally makes your life as unpleasant as possible should be avoided because you are not supposed to be uncomfortable or in pain. Here are some very basic ways to ensure that you get the right size underwear:


Be honest with yourself. Avoid the temptation to go one size smaller because no one else is going to know or care what size underwear you wear. In fact, underwear that are too small will tend to make a person look heavier and will show through to your cloths and that really looks awful![3]
Get a proper fitting if you're purchasing bras. Bras are especially important to get properly fitted because they will affect most everything you wear and they should not dig into your breast tissue, cause sagging, make your breast bulge over the top of the bra, fall out of your bra when you bend over, or sit crookedly.[4] Have a fitting yearly by a sales person that has been trained to do a fitting correctly. Try on different tops made of different fabrics to make sure you like what you're seeing in the mirror. Always adjust the straps when fitting bras.


For underpants, compare your waist and hip size to the size charts that are usually printed on the back of underpants, boxers, etc. Sometimes the store will have a chart on display. The key things to look for include symmetry (no tugging across your derriere), snug but not binding openings around legs and waist, no digging into the skin, and the gusset (crotch) must be smooth and flat, not tight, sagging, or riding up.[6]
If the store allows you to try on underpants over your existing underpants, then do so. Do not take off your current underpants though (perish the thought)!

If the store won't allow a fitting in-store for underpants, buy one pair of underpants, boxer shorts, briefs, etc., if you are not sure of your current size and you don't know how they will feel when wearing. Given that many stores don't allow exchanges on underwear for hygiene reasons (often regulated), don't throw away your money on too many pairs that aren't going to fit. Try the underpants on at home, then buy more of that size if they are comfortable and fit well. You can size up or down or try a different brand if needed. One style or brand does not fit all.
Ask for the retail assistant's help. Possibly a good salesperson can size you up just with a glance. Be sure that they know what they're doing though and use your common sense.
3Look for quality fabrics. Fabric can be a big cause of discomfort when wearing underwear, especially if it is scratchy, sweat-inducing, doesn't breathe, and feels awful. When assessing your new underwear, the following tips can help you to make a sound choice:


Feel the material for smoothness, softness and comfort. Run your fingers through the underwear. How does it feel to you?
If it feels too thin or too thick, keep looking. Thick fabrics can bunch up and look unsightly or feel scratchy.
Look for soft fabrics and check to see if the thread used on bras is scratchy on your back, as many of them are. Cotton is always a favorite because it breathes well and is very easy to care for. Use vinegar to soak bras for a short time if they have an underarm odor that will not wash out.[7] Other good choices include Lycra, Microfiber, bamboo, cashmere, silk-feel nylons, high quality polyesters (polyester gives most support - look for cotton crotches), etc. Silk and satins are a lovely choice too but they hard to care for well, as they require handwashing.[8] Blends are often a good choice because they can support and contour at the same time. Read the labels to find out the alleged benefits.
Remember, these items are against your skin all day long, so don't even think of putting up with something scratchy or constricting! If you're going for something lacy, make sure the lace doesn't cause an itching problem.
4Consider the benefits of wearing seamless underwear. Although seams may not seem like a big deal, and do not bother everyone, seamless make your cloths look smoother on the outside, especially with knits. Wearing tight fitting clothing or simply sitting on these seams for a long time may cause discomfort, is unsightly, and the prolonged pressure might leave marks. Such pressure can even lead to skin irritation and itchy skin in a person with sensitive skin.


Lycra and Spandex create the most seamless appearance.
Open-toed shoes should always be worn with seamless toe tights and not ones that are reinforced, as the tip of the toe is darker in color. There is no other option apart from bare feet with nicely pedicured nails.[9]
5Select a cut or style that works for you. Both underpants and bras come in a range of different cuts (or shapes) that take into account your personal support and comfort preferences. It isn't always easy working out which cut or style will work best for you, however, and you might simply have to be daring and try a range of types to see which feel most comfortable.


Try on different types and see how they feel on you, do they pinch, ride up, have tight openings, or sag after being worn after a short time. Don't be swayed by sales hype – the cut must sit well and be comfortable on your body. Remember to take into consideration the type of clothing you will be wearing over your undergarments. If you wear a lot of shear tops, or knits, you probably don't want a bold colored bra, or one with seams etc.
Bra cuts include strapless, cross-over, demi-bra, convertible, front closure, halter, longline, lined, push-up, racerback, seamless, underwire, etc.[10]
Underpants range from a G-string, thong, bikini or string bikini, boy shorts, loose or tight boxer shorts, tap pants, briefs: boy leg brief, French cut, control brief, full coverage, high cut, etc.[11] [12] Each has its benefits and disadvantages depending on your size, activity levels, and preference. And you need to try them on to know what works for you, as there really is no right or wrong style, just a wrong feeling!
Check that the underwear doesn't constrict or cut into your arms, waist and legs.[13]
Think about what you do all day long. If you're a sportsperson, look at the sports underwear for supportive, contoured underwear. If you're sitting in an office all day long, surprisingly, the same features of support and contour as sports gear are important considerations.[14] If you aren't very active due to illness or some other reason, you might want less contouring and more looseness.
6Check the tightness of any elastic bands. An elastic band that feels too tight will constrict you. The elastic bands on some underwear can be too tight, placing you at risk of constricting your blood flow or causing skin irritation. If your undergarments are leaving marks on your body after you take them off, stop using that underwear. A good pair of underwear should not leave marks on your body after wear.


7Consider organic underwear. Not only does selecting organic underwear help to support an industry of manufactures growing fabric materials without resorting to pesticides, but also, much of this type of clothing comes without bleaches or dyes used in its production. Since your underwear is in constant contact with your skin and is under your clothing most of the time, such chemicals can potentially cause skin irritation. This is especially important if you have very sensitive skin.


8Consider no underwear. While this is an option that will horrify some people, for others going "au naturel" under the clothing is the norm. If it works for you and isn't unsafe, unhygienic, or uncomfortable, it might be one answer to solving any feelings of discomfort. The drawbacks to this method are that you will have your clothing fabric in direct contact with sensitive areas of your skin, you might feel vulnerable, and you might be embarrassed if the wind or bending over exposes your secret! If you are going to try on clothing, be sure to wear underwear at that time. Also, be aware of any discharge you may have which could leak through your clothing, in which case it is probably best to wear undies.


It recommend that flat chested women substitute a bandeau made from flesh-colored tights tied around their chests like a bandeau rather than wearing an uncomfortable and unnecessary bra. This way, you can wear a skimpy top or dress without feeling exposed.[15]


9Remove tags from the underwear after purchase. These can cause scratching and rubbing problems if you're sensitive to them. Once removed, you can always store them somewhere if you need the care instructions or want to remember the brand, size, and style of what works for you so you can find your next undergarment with ease. It is possible to purchase tagless underwear in some brands, if preferred.


10Care for your underwear properly. Good care for underwear is essential for prolonging its life and ensuring that you get the most comfort from it. For example, poorly washed bras can cause the underwires to poke through and hurt you when wearing. Avoid premature destruction of your comfortable underwear by reading the care label carefully and storing all underwear in an airy, clean space. Wash your bras on a regular basis or you will start to smell, even if you have just showered. Here are some ideas to help you get started on good underwear maintenance:


How to take care of your lingerie
How to wash a bra
How to extend the life of bras.
Store underwear as follows:[16]
Folded and stacked neatly in draws with like styles stacked together.
For ease of access, bras,underpants, and socks should be stored separately from one another.
Use mesh bags when wished if needed.
Bras can be stored hanging from notched hangers.
Never spray anything with a scent on your underwear, as it could cause great discomfort. If your underwear smell musty after having them stored for a long period of time, rewash them. musty odors.
11Replace underwear regularly. It isn't a good idea to hold onto your underwear well beyond its useful life. As the underwear sags and loses it's shape, dispose of it and replenish your supply. Well fitting underwear will increase your comfort level and will keep your clothes on top of it fit better. Rotating underwear frequently, as well as using the suggested care instructions will greatly extend the comfort and life of your underwear. Although there is no set lifespan of your underwear, use your judgement when it comes time for replacing them. Use the same rules of comfort and fit as you did when you purchased them. If your underwear doesn't fit well, your outerwear will not look good. Here are some average lifespans for your underwear:[17]


Bras – 3-6 months; longer if you have a number of pairs and rotate them but even then, should be changed yearly. Hand washing is essential for bras, using a soap designed for delicates.

Underpants – 6 months.
---
Posted on: 04 Sep 2013 01:11 am