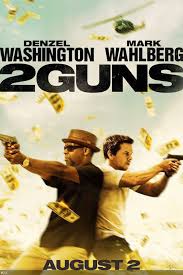 ---
2 Guns





Want To See:

185

Not Interested:

12
2 Guns follows a classic formula: trigger-happy good guys on the run from trigger-happier bad guys, and everybody chasing the money. That description could apply to any number of movies, and that's really the problem with this one – there's nothing outstanding causing it to rise above.

Bobby "Beans" Trench (Denzel Washington) and Michael "Stig" Stigman (Mark Wahlberg) are two crooks hopping back and forth across the Texas/Mexico border, working deals for Mexican drug lord Papi Greco (Edward James Olmos). After Papi reneges on a deal, Stig proposes they rip him off by robbing the bank where he stashes the proceeds of his operation.


The thing is, Bobby and Stig aren't crooks at all. Bobby is actually a DEA agent and Stig works for US Naval Intelligence, and they're both using the other as part of separate undercover missions, not realizing they're each not what they seem. During the robbery, they find much more money than expected, and the theft brings another mysterious (and violent) player (Bill Paxton) into the mix. Soon, the money disappears, and Bobby and Stig have to work together to find it before all manner of thugs, sailors, and shadowy agents take them down.

Crosses and double-crosses of all types abound in this story, and there are a lot of players to follow, but screenwriter Blake Masters (adapting the comic book miniseries by Steven Grant and Mateus Santolouco) does a fair job of laying out the plot. It's sometimes confusing, but a lack of comprehension doesn't kill the action – all we're really doing is following the money and waiting to see who comes out on top.

What does kill the action are the performances – everyone's just too generic to thrill. Bobby is a cold, detached character (Stig tells him he "doesn't like people") but Washington, usually very dynamic, is so detached he's left the picture. He only barely comes alive in his marquee scenes. Wahlberg plays Stig as the stereotypical motormouth who talks too much to actually think, and as such gets a lot of the funny lines, but he doesn't distinguish himself. The bad guys (Paxton, Olmos, James Marsden as Stig's commander) are more interesting, as villains usually are, but even their antics fall apart after a while. And Paula Patton, as Bobby's sort-of partner, sort-of love interest, is underused.
---



please contact me In my email address
lisaibrahim3@hotmail.com


I Will tell you more about my self and send you
some of my pictures.

| 15 Apr 2016