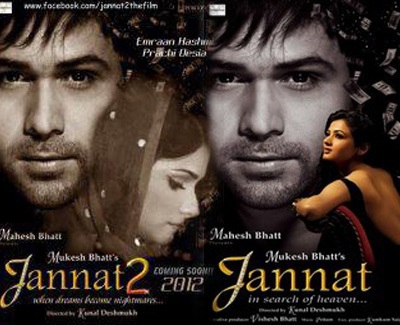 ---
Jannat 2





Want To See:

9

Not Interested:

6
Jannat 2 is the story of one ordinary man, Sonu (played by Emraan Hashmi). His quest for personal heaven, creates hell for all those around him, until he breaks away from it all with the help of ACP Pratap (Randeep Hooda).

Sonu is a smooth talking street-smart gun runner, who has the gift of the gab and knows his trade inside out. Pratap is a hardened maverick cop, who has a personal vendetta against the gun nexus. He will go to any length to crack down this nexus and he handpicks Sonu for the job.

Knowing that he is the perfect candidate, Pratap lets Sonu enter this racket undercover and expose everyone involved in the illegal gun trade.

Along his journey, he falls in love with a beautiful young doctor Jhanvi (played by Esha Gupta). This throws his life's course into a tailspin with unforeseen and far-reaching consequences for all three of them.
---



please contact me In my email address
lisaibrahim3@hotmail.com


I Will tell you more about my self and send you
some of my pictures.

| 15 Apr 2016
super message to all india, don't use gun
without any need.
take in approved by indian govm.


| 10 Jan 2014